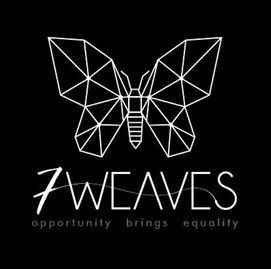 7WEAVES Social works with the indigenous communities of the Indo-Burma biodiversity hotspot. Preserving and learning from their centuries-old traditional knowledge, the use of locally available natural materials, local production methodologies, and dyeing techniques, a contemporary modern high-end Handspun, Naturally Dyed, Handwoven Eri Silk product is co-created using traditional tools and wisdom for the world fashion market.
The region is home to some of the world's most beautiful wild silks and natural dyes. Here, every household of the indigenous Assamese Rabha community have traditional skills across the Eri silk value chain, cocoon rearing, yarn spinning, natural colour dyeing, and handloom weaving with traditional structures for hundreds of years for their own.
Founded on indigenous principles of reciprocity between humans and nature, 7Weaves' model does not exploit natural resources; on the contrary, resources are actively conserved and regenerated, ensuring no negative impact on the ecosystem. Maintaining the entire production chain at a local level and basing it upon traditional cultural and ecological knowledge ensures that communities are receiving the maximum value and contributes to long-term sustainability.
Each artisan receives a fixed regular monthly salary and health insurance, ensuring a livable income and access to healthcare. Plus, a 50% share of the company's profits is re-distributed to the participants annually, allowing the community to benefit from the profit orientation of the company; these funds can be reinvested by the community in education, ecology, culture, language, craft and other areas. At 7Weaves each piece of cloth conserves biodiversity, empowers indigenous communities and brings economic freedom.

7WEAVES has reintroduced Assamese Indigo plants (Strobilanthes cusia) in the community forest and uses the Assamese traditional technique of Indigo dyeing from the fresh leaves. The technique is an endangered traditional craft technique. 31 different plants have been identified which are either used as mordants, softeners or natural dyes for dyeing. Our artisans also use natural colours obtained from plants including Madder, Bamboo, Tea, Rice Hay and Teak Leaves and others, all grown within the community forests. They use 4-harness looms and work with texture, cutwork, stripes, colour blocking and openwork weaves, as well as developing specialised hand-tied and highly textured yarns.
Address
House no 6
Dr. B.K.Kakoty Road
Guwahati
Assam
781007
India