Dianeart
Stand: 56
Art, Music & Film
Training & Education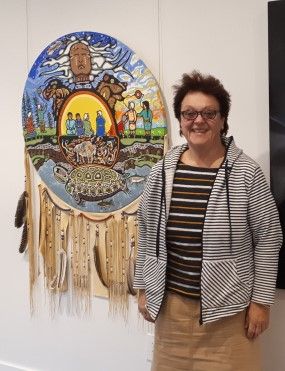 Diane was born and raised in Montreal, Quebec. She studied Interior Design at Old Montreal College. Afterward, some of her projects were published in numerous design magazines. She now lives in Toronto since 2000.
Diane grew up in a creative and entrepreneurial family. At a young age, her parents enrolled her in "Les Beaux-Arts" for young kids. Enmeshed in her world of creation she became a self-taught artist over the years.
Captivated by the Arts in all its shapes and forms & her love for Landscape scenes, it seemed to magically come together. In later time Diane discovered and understood why her life came together after discovering that she was a Métis (Algonquin) on both sides of her family.
Being Métis (Algonquin), she was designated to the position of Education resource person at the MNOC - Métis Nation of Canada where she sits on the Board of Directors since 2016.
Diane is a Visual Artist working with acrylic painting and representing the teachings of the Grandmothers.
She is a Board member at The Artist Network of Toronto as Education Director.
Diane is a Member of CARFAC of Ontario (Association of professional Visual and Media Artists in Ontario).
Diane's paintings have been selected in many juried shows in Toronto.
She is also working on a relationship as a knowledge keeper in residence with the TCDSB (Toronto Catholic District School Board). She is also one of the Indigenous consultants for the French Viamonde school board & work in collaboration with the Waldorf Academy of Toronto.
Address
42
Bishop Tutu Blvd
Toronto
ON
M5V 2Z7
Canada